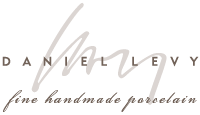 Daniel Levy has been creating fine porcelain tableware and lighting since 1982. After graduating from Alfred University with a degree in sculpture and ceramics, Levy moved to New York City and began developing a range of functional objects that reflect his interest in clean, minimalist design infused with a sense of the maker's hand in each piece. All his work is made to order from his Manhattan studio. It is slip cast, decorated and finished with multiple layers of 22k gold or platinum and signed by the award winning designer, himself.
By embracing the subtle variations in color, texture and form that are a natural part of the handmade porcelain process, Levy's studio work has a vitality not found in factory mass production. No two pieces are ever identical, though controlled and precise to within millimeters of each other.
Levy has become a valuable resource to architects and interior designers, providing custom color, pattern or shape options for uniquely tailored environments. His elegant dinnerware can be found on tables in luxury hotels and fine restaurants, as well as private homes, jets and yachts. From a porcelain hanging planter system at the Standard Hotel in New York City, to the dinnerware service in the corporate boardroom of Sotheby's, London, Daniel Levy's contemporary designs become site specific installations, conceived with an artist's vision and a craftsman's hand.
Drake/Anderson, New York, NY
Ike Kligerman Barkley, New York, NY
Brian J. McCarthey, Inc., New York, NY
Emily Sumers Design Associates, Dallas, TX
David Tisdale Design, Bridgeport, CT
Gilberte Interiors, Hanover, NH
Dahlgren Duck, Dallas, TX
Selldorf Architects, New York, NY
Peter Marino Architect, New York, NY
David Scott Interiors, New York, NY
Roman & Williams, New York, NY
ThinkPure, Santa Monica, CA
Evolve Residential, Boston, MA
John Boone, Inc., New York, NY
Kemble Interiors, New York, NY
Shaver Melahn Interior Design, Madison, WI
Fox-Nahem, New York, NY
David Easton, Inc., New York, NY
Sandra Nunnerley, Inc., New York, NY
Worth Interiors, Avon, CO
Annelle Primos & Associates, Jackson, MS
Studio C Interior Design, New York, NY
Reber Design Architecture Pllc, New York, NY